More and more engineering professionals are taking their talents to the free market these days. They're stepping away from the ties that bind them to one company and the rules and regulations set forth by that company. The benefits of working for yourself are tempting: set your own hours, charge a price you feel fits your level of expertise, and have the freedom to pick and choose projects that are appealing to you. Depending on the work, you can also work from home instead of heading into an office from 9 to 5. If you're an engineer looking into freelance work as a side job or even your main source of revenue, we've got some helpful tips for starting out on your own as a freelance engineer that will be helpful regardless of your location.
Depending on what type of engineering background you have, there are different freelance engineer paths you can take, we'll break that down first. At the end of the article you'll find some great general tips on freelancing (like where to find freelancing jobs) that are applicable to all engineers.
Freelance Civil Engineers
If you are a civil engineer there are many ways to launch yourself into the freelance engineer world. For civil engineers, one of the most popular freelance paths is in computer animated design (CAD). If you can use Auto-CAD or a similar program to create models, blueprints or schematics, you won't have any trouble finding work.
We recommend putting together a portfolio with examples of the work you've done using Auto-CAD and submitting that, along with your resume to freelance engineer positions.
Since these jobs are so plentiful, you should have no trouble finding openings posted on popular job search websites. You might start by accepting some easier jobs to get you started and to help build your portfolio and earn yourself a reputation outside of a company that you have previously created designs for.
Freelance Structural Engineers
City planners, businesses and residential homeowners often have projects that require the expertise of a structural engineer.
These projects require you to be on the site in person, so you'll want to find jobs that are local to you. Some examples include residents who want structurally sound swing sets or club houses designed for their yards. Often homeowners associations require structural reports before they approve remodel requests.
If you want more long-term work, cities and townships often use contractors to do their projects. This means you get the same benefits of a freelance engineer worker but you're guaranteed more work than just the one-off projects from residents and businesses.
Freelance Environmental Engineers
Environmental engineers are also likely to get consulting or freelance work with their local city government. Look out for postings for that involve environmental compliance for recycling, waste disposal, water, public health and air safety.
Sometimes, the city or township works with a consulting company. You might also have luck getting a freelance engineering job within a consulting company.
Another option is looking for commercial companies that need site assessments completed.
On the other hand, engineers who work in oil and gas sector thrive online as great consultants and have their names out there as authors in the field of impacts on sustainability.
Freelance Software Engineer
We've come to the last but best option for freelance work. If you are a software engineer, you've hit the jackpot of freelance engineer opportunities. If you search for only 'freelance' in any job search site, you're going to get hundreds of hits for software engineers without even narrowing your filter.
A great way for software engineers to find work on their own is for them to solicit start-ups. Startups are going to need good engineers before they hire any new employees. Have an example of something you've coded to send along with your resume and offer them a reasonable hourly rate. If they like your work you might end up working with them exclusively as they scale their business.
Freelancing Tips and Tricks
How do you find clients on your own?
Without clients, there is no freelance work. You can start with popular job search sites. Often they post positions for freelance work. Include the terms 'freelance', 'contract' or even 'consultant' in your search. Don't forget that depending on the job, you might not have to limit yourself to clients in your area. If the type of work you are offering can be completed without going into an office, you can apply for jobs anywhere.
You can also find a lot of clients looking for engineering work on freelance specific job sites. The downside of using many of these freelance platforms is that as a freelancer, you're going to have a percentage of your earnings deducted by the platform as a convenience fee for their services. The fees can be steep (often 20%) and then you still have to pay taxes come April.
Workhoppers is the only freelance site that does not take any commission off your work. It is an absolutely free service for freelancers looking for flexible work in their own city.
An alternative to finding job postings is to work your contacts. Once you land one job as an independent contractor, it can be easier to get more work just from word of mouth recommendations.
Learn more about how to promote yourself and maintain outreach strategies to draw in new business. Here are 7 Outreach tips to grow your freelance business.
How much money do I need to start my freelancing career?
This is a more difficult question to answer as it really depends on the kind of work you are offering. Here are some costs you might incur as a freelance worker, bear in mind these will not apply to all freelancers.
Software licensing: if you work for a company they have their own commercial license for programs like Auto-CAD. If you're not working for a big company you'll need this on your own computer. An Auto-CAD subscription costs about $1,600 a year.
High-speed, reliable internet service: especially if you're working for clients with whom you cannot meet in person, you'll need a high speed internet connection that allows you to video conference. The cost of this varies per month depending on where you live.
Office supplies: all the materials that are at your disposal in an office environment will need to be purchased when you go out on your own. Again, the precise cost will vary depending on your line of work. It can be as simple as buying ink, paper and toner for your printer or more expensive like having blueprints and schematics professionally printer. You can factor the cost of these materials into your hourly rate, but you'll have to buy them upfront.
Other employees: once you become successful as a freelance engineer, you might start to find that you're getting more work than you can do on your own. When this starts to happen you might hire another employee or freelancer to do some of the busy work like invoicing, sales and marketing.
Advertising: if you want to scale your freelance business, you'll need to budget for advertising. This will likely include having a professional website build and getting it to show up on the first page of a relevant Google search.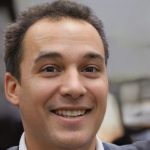 Written by Seth Barlow, a writer at Vista Projects. Seth is an expert consultant in alternative investment, private equity and venture. A hobbyist writer born in Palm Desert and grew up in San Diego. Loves fishing!